Why you should consider getting an external flash first before anything else
For many new photography enthusiasts, upgrading to a fast 2.8 zoom lens will be their first priority and their main reason is for low-light shooting capabilities. There's nothing wrong with that, it's a legitimate, worthwhile investment for those who can afford it and need it for their assignments.
Make sure you check out my Comprehensive Flash Buyer's Guide as well.
Those of us can't afford fast zoom lenses without going through some serious budgeting will need to real consider the reasons to get one as when we do buy such a nice piece of equipment, most users fail to realize that a fast lens does have trade-offs as well, especially when it comes to depth-of-field and max shutter speed issue.
For most casual users, investing on a flash gun is a much better decision, in my opinion. A flash gun allows your basic kit lens to function well in low-light and fast-moving subjects regardless of lighting conditions.
Unless you shoot in very good light and with a tripod most of the time, a flash will be more beneficial than a fast lens.
If you're shooting a group of subjects in low-light, using a wide aperture (f/4 or larger) usually won't let you get a sharp image beyond the person your camera focused on. You'll most probably need f/6.3 to f/11 in most group shots – something even your fast lens won't be able to cope with in terms of shutter speed. Even high ISO won't help much, not to mention the loss of detail due to noise.
If you're a daytime-only or landscape photographer, then a flash may be less advantageous to you, but for most people, read on.
A flash will allow you to keep a high shutter speed (usually above 1/100) while keeping the aperture opening small (f/5.6 or smaller).

E-TTL systems calculates exposure pretty accurately and if you have the experience, you can always manually mix and match your flash-cam settings.
In addition, the AF assist system of most external flash guns are superior to on-cam flash assistance units especially in near-total darkness.
Here are some examples of a flash's advantage.
Camera: Canon EOS10D
Flash: Sunpak PowerZoom 4000AF (not ETTL compatible – manual only).
Trigger: Optical hotshoe trigger.
Settings: 1/200 @ F/10 ISO 200. Flash set at 1/16 power @ 28mm
Note that all the photos below are shot with the shutter/aperture/ISO settings above except for the ambient shot (set # 3)
Set 1: Off cam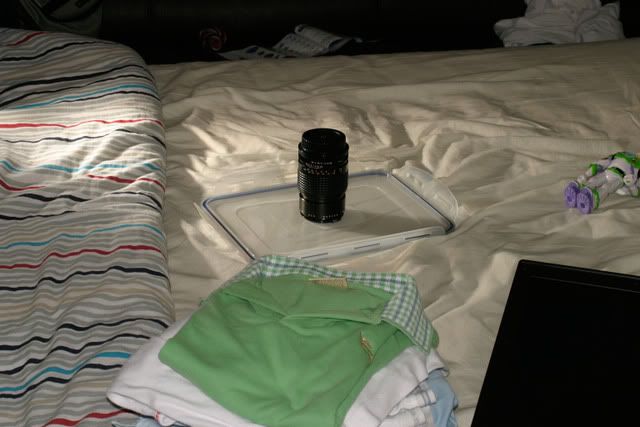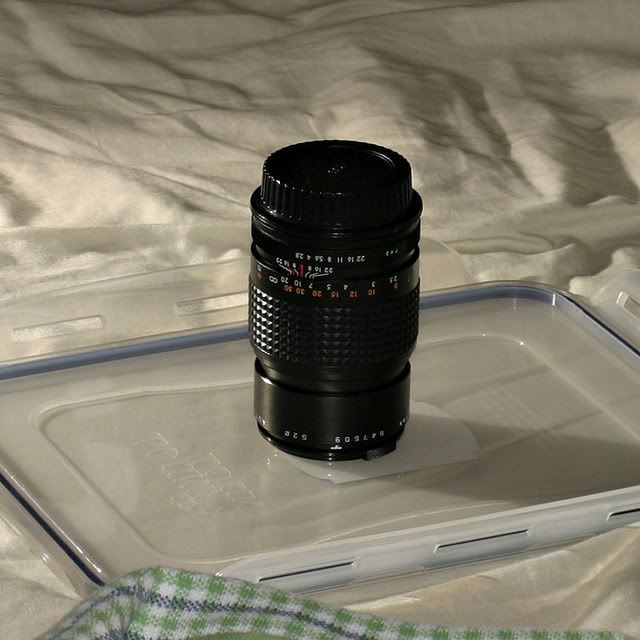 Set 2: No flash Set 3: Ambient Only 1/6 second, f/5.6 ISO 200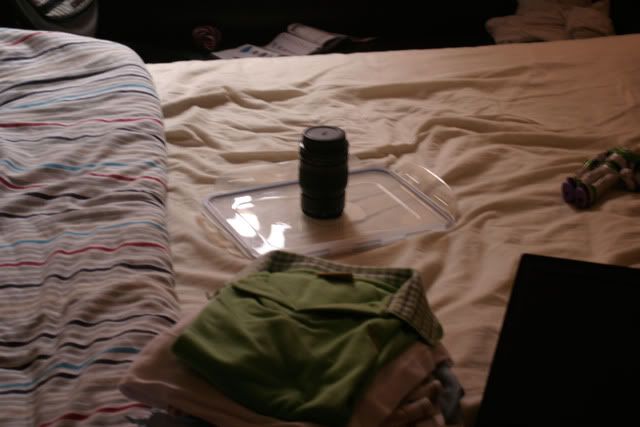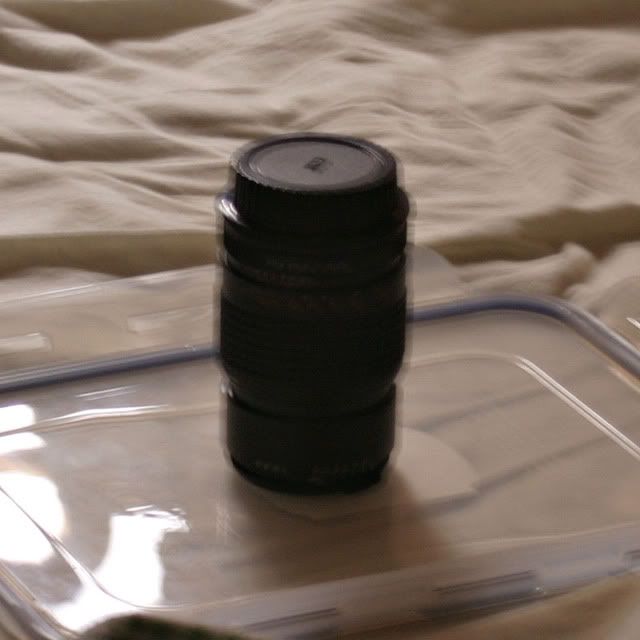 Excessive blur and much less DOF.
Set 4: Same as Set 1 with a reflector opposite the flash.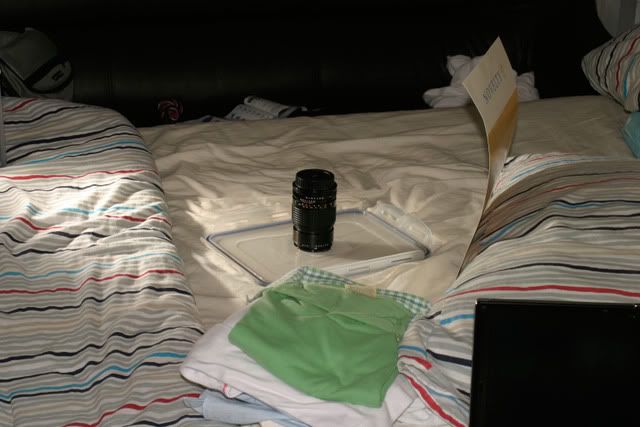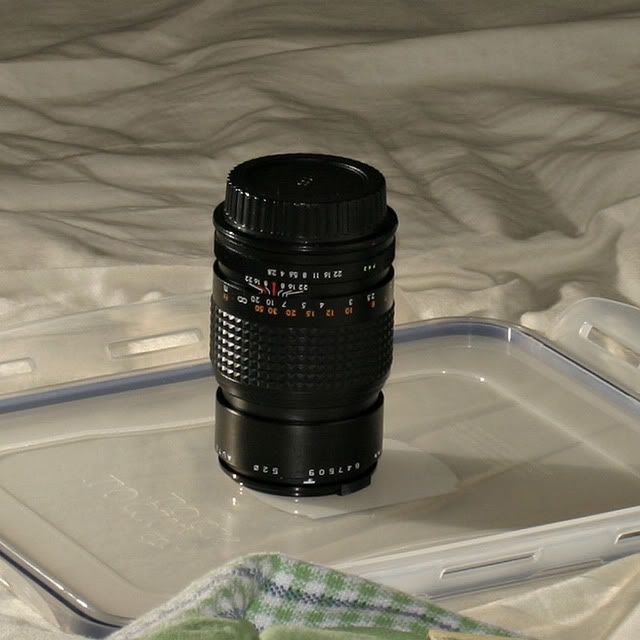 As you can clearly see, the ability to use a small aperture gave me great DOF. By setting my cam's shutter speed to its maximum sync speed (1/200), I was able to take a much sharper shot with low noise as well.
Here's another set taken this evening with an almost completely dark room… Also to illustrate another benefit of a flash gun – DIRECTIONAL LIGHTING. Unlike available light (indoors) or pop-up flash, the shadows are very clear and defined, which gives a more 3-D feel to your photos.
1/200 f/9 ISO 100
Bye bye frontal lighting…
Sunpak PZ4000 AF @ 1/16 power as optical slave fired through a scrim (hand held). + EOS10D + 50mm 1.8.
Most are shot with 1/125 @ f/5.6 or 6.3, ISO 100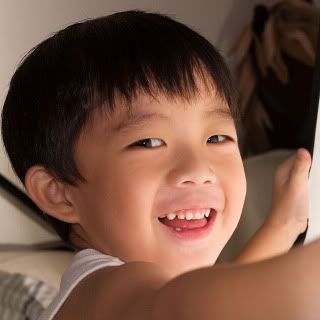 The images above were taken by my 9yo niece, Nicole.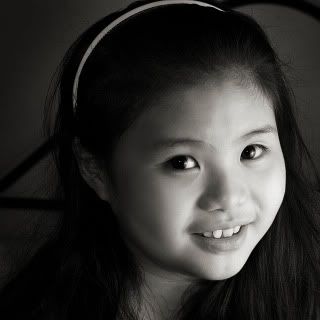 As you can see, it's almost "softbox" like quality lighting with a cheap flash and a scrim. You can't get that with your large aperture lens if you don't have directional light in the first place.
Here are two more examples that I want to use to illustrate the advantage of having flash. The photo was taken with a f/2.8 zoom, which was insufficient to get ample light in at night without considerable blur or grain.
This was taken a few minutes ago, past 9PM. The sky is dark, the only ambient were two overhead tungsten tubes (about 20W each)…
There's quite a bit of ambient registered in the background despite the direct flash from the pop-up flash. The shadow thing on the right was caused by my camera strap, sorry about that.The lighting was obviously frontal, as evident with the sharp shadows around my wife's left arm. The pop-up, however didn't overpower the scene, it worked like a fill-in instead of a main light.
What's the EXIF? ISO 800 – Aperture F/5
Now try those two setting in Av mode at home at night with whatever ambient you have (1-3 low-wattage ambient lights max) and see what happens… You'll probably get a shutter speed of around 1/2 to 1/4 or so and your image will result to a blurry photo due to cam shake.
Try to switch to auto or P mode and use flash and take a photo, your cam will try to get you a decently sharp photo at 1/60 of a sec or so and you'll probably get a dark-background/typical flash shot where no ambient light registered (like the back wall and lights from the other buildings).
The photo above was taken with a shutter speed of 1/10th of a second, hand-held. The pop-up flash was set at +1.3EC since it was really dark and the pop-up flash won't be powerful enough. There's virtually no cam shake visible and the flash isn't very harsh on the subject.
I need to reiterate that this post is for most users who are seeking a solution to low-light shooting. If you're shooting landscapes, macro, outdoor most of the time, obviously, this post will be invalid. I'm referring to hobbyists who thinks a fast, expensive lens for low-light usage is the only solution, I'm pointing out that it's not the case. Relying on wide-open aperture to get enough light in is a valid use but often abused and misused.
You see a lot poorly executed, thin DOF even if not necessary all in the name of getting a shot in low-light when creating your own light is a much better way to go. Even with today's superior high-ISO noise control of DSLRs, you still won't address the issue of where the lighting is coming from. High ISO + wide aperture will get more light in, but it won't create DIRECTIONAL lighting that'll make your photos pop.This post is only for those considering a fast lens for low-light purposes. Naturally, if creating your own light isn't an issue or your main purpose is to get a shallow DOF, of course getting a fast tele is the way to go.
Bottom line is, photography is about light. The more light that's available for you to control and direct, the better your photographic options will be. If budget forces you to choose between a flashgun and a fast lens, I'd recommend a flash unless you:
A) shoot solo portraits for the most part where DOF isn't a priority.
B) If you're a landscape or still life artist, then this post is not for you, you either don't need a flash, or you'll need multiple, external light sources.
C) If you're an experienced photographer who shoots when daylight is available and knows how to read available light and manipulate it, then a flash may not be as important as well.
But if you're like me who shoots indoor and low-light most of the time, and often need to stop down the aperture for adequate DOF, then a flash is indespensible, even if you're just taking photos of your love ones 90% of the time.
A flash allows you to direct where light is coming from and makes sure you have ENOUGH light without sacrificing depth-of-field and noise. It also acts as an immediate fill-light source if harsh shadows contrast is too high.
Get an external flash gun first, then master the use of flash and you'll maximize your skill with good lenses. Photography is about lighting, first and foremost after all.
Readers Found This Page With These Terms
should i buy a flash or lens (3)
should i buy externam flasjh (1)
should i get 2 lenses or a lense and a flashgun (1)
what external flash should i buy (1)
what to buy first another lense or a flash (1)
what\s more important first external flash or telephoto lens (1)
when is an external flash beneficial (1)
which is a better investment flash or lens (1)
which to buy first external flash or lens? (1)
buy a camera flash or faster lense (1)
should i buy a flash or a faster lens (1)
off camera flash or fast lens (1)
david tong buy flash first (1)
external flash first steps (1)
external flash or zoom lens (1)